We had the absolute pleasure of having Andy onboard over the past few days on a trip to Martinique. In keeping with the rest of this blog, we decided that all crew, should go through the Indulgence interrogation interview. So here is all you need to know about Andy….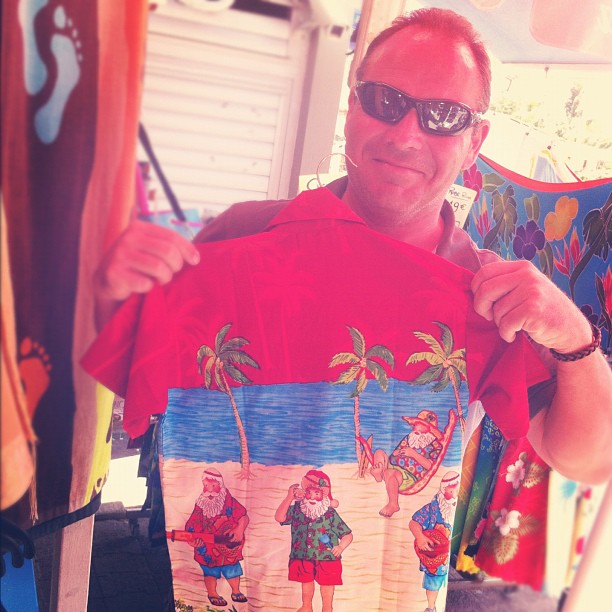 WHAT IS YOUR FULL NAME?
Andrew Franklyn Gissing
WHERE YOU NAMED AFTER ANYONE?
My father and my grandfather, they both had the same name.
WHERE WERE YOU BORN?
Portsmouth. (AKA Gosport – okay, this was added in by John!)
WHEN WAS THE LAST TIME YOU CRIED?
When I went home and my daughter jumped on top of me when I surprised her on my birthday.
DO YOU LIKE YOUR HANDWRITING?
No. I think its terribly untidy. It can be read though, it's just very untidy.
DO YOU HAVE KIDS?
Two. George 16, Alice 14
DO YOU USE SARCASM A LOT?
Do I use sarcasm a lot? *laughs* sometimes, yes!
DO YOU STILL HAVE YOUR TONSILS?
Yes
WOULD YOU BUNGEE JUMP?
Yes. Haven't done it before, have done a parachute jump, but never a bungee.
DO YOU UNTIE YOUR SHOES WHEN YOU TAKE THEM OFF?
Yes. It's so I don't stretch them when I put them back on. That's a John Lewis trick.
WOULD YOU PUT THE MILK INTO THE TEA FIRST, OR LAST?
Last. Always.
WHAT IS THE FIRST THING YOU NOTICE ABOUT PEOPLE?
Ohhhhhhh………. I think their eyes. You can a lot about people from their eyes. Honestly and genuineness. You someone smiles, you can see that smile in their eyes.
RED OR PINK?
Red. However, it is an aggressive colour, but pink is very feminine. I prefer red.
WHAT IS YOUR LEAST FAVOURITE THING ABOUT YOURSELF?
Overweight
WHO DO YOU MISS THE MOST?
Secret
WHO WAS THE LAST PERSON YOU TALKED TO ON THE PHONE?
My mum. She was very pleased to know I was safe and sound, and on dry land. Though this boat is not very dry.
SCARY MOVIES OR HAPPY ENDINGS?
Happy endings
ROLLING STONES OR THE BEATLES?
Rolling Stones
DO YOU HAVE A SPECIAL TALENT?
*nods slowly* I can sail. That is special. And I have patience.
WHAT IS THE FARTHEST YOU HAVE BEEN FROM HOME?
Saint Lucia, yeah.
IF YOUR HOUSE WAS ON FIRE WHAT WOULD YOU SAVE?
My family
HAVE YOU ANYTHING ELSE TO ADD?
Material things don't matter to me. I'm not somebody who collects things ever. For me it's about relationships. I've got lots of friends and that is very special.
WHERE DID YOU MEET THE REST OF THE CREW ON THIS TRIP?
John was through the World Cruising website, whom I meet in Parmo de Varizam. For the rest of you guys, I meet you in Las Palmas when you came out to join the ARC, and Jill in St. Lucia. I was disappointed that you, Joleen turned up because if you had not, there may have been a place for me on this boat doing the ARC or I would have had to go through this interview. But that didn't happen and I'm glad to be here now.
LASTELY, I HAVE A QUESTION FROM JOHN, SHOULD SLAVERY HAVE BEEN ABOLISHED?
What???? Come on now. No way… that's a ridiculous question. I'm outta here.