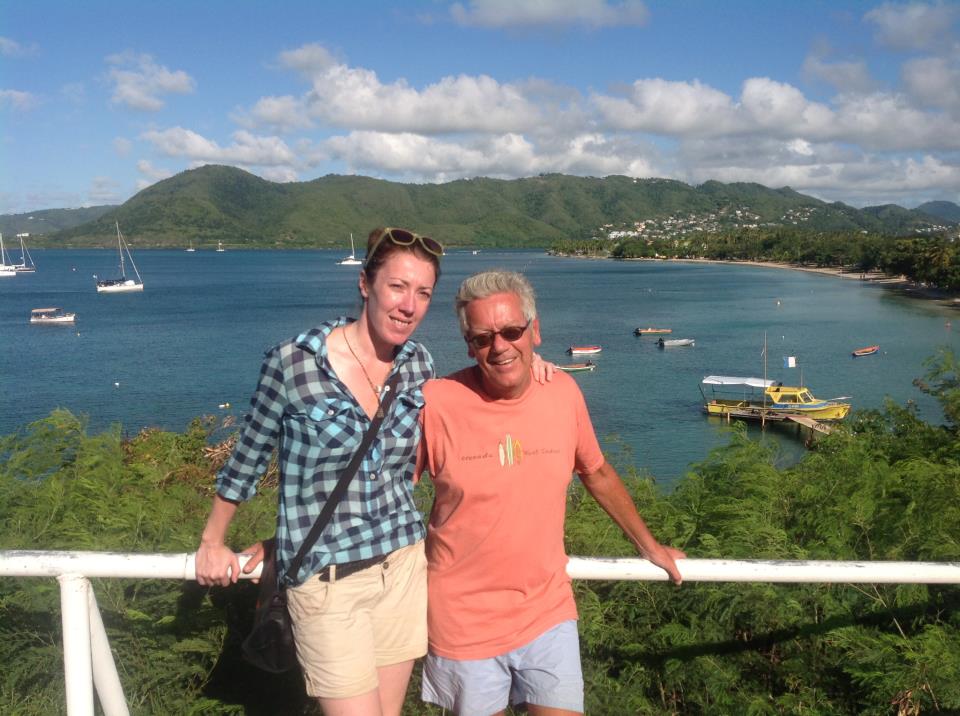 WHAT IS YOUR FULL NAME?
Jill Sarah Naomi Heffernan
WHERE YOU NAMED AFTER ANYONE?
Sarah is my grandmother's name. Mum just liked the name Jill. I wish there was a story with it. Do you know dad was going to call his first boat Jill? But Mum stopped him and said they Robert would be jealous. Poor Rob! But in the end the boat was called Vixen.
WHERE WERE YOU BORN?
Cork. Da Bons.
WHEN WAS THE LAST TIME YOU CRIED?
When I released I had four hours to get to the airport when I was leaving Thailand. I was stressed out. My dad rang me the day before, I thought I was leaving the next day, and then I only noticed that my flight was leaving in four hours. I was so stressed, trying to pack everything into my bag. I even forgot my bikini and I was balling my eyes out. I should have been at work actually yesterday, but I'm here now. Thank God, I got here in the end!.
DO YOU LIKE YOUR HANDWRITING?
I do. But I have horrendous writing on the board. As a teacher, I get a hard time for it and Im left handed so its very slanty.
DO YOU HAVE KIDS?
None that I know of. But I do have around ten kids in my classroom everyday. I call them my Thai babies. They are darlings.
DO YOU USE SARCASM ALOT?
All the time. Everyday. Me and friend Jo are always using sarcasm. In Thailand there are so many nationalities and we have fun using sarcasm because they don't understand it. Irish people using sarcasm a lot. I love it.
DO YOU STILL HAVE YOUR TONSILS?
I do.
WOULD YOU BUNGEE JUMP?
Never. 100%. No way.
DO YOU UNTIE YOUR SHOES WHEN YOU TAKE THEM OFF?
I can't remember the last time I wore shoes with shoe laces. But no, probably not.
WOULD YOU PUT THE MILK INTO THE TEA FIRST, OR LAST?
Last
WHAT IS THE FIRST THING YOU NOTICE ABOUT PEOPLE?
God. *pauses* I suppose their eyes. You can tell if someone is genuine. You can see a smile in someones eye. Yes, this is the first thing I notice.
RED OR PINK?
Red
WHAT IS YOUR LEAST FAVOURITE THING ABOUT YOURSELF?
*long pause* god. *pause* My height, I hate being tall. I wish I was a couple of inches smaller. I can't wear heels. Im 5foot 9″ but feel like a giant in Thailand.
WHO DO YOU MISS THE MOST?
Ohhhh mum and dad cause I'm away all the time.
WHO WAS THE LAST PERSON YOU TALKED TO ON THE PHONE?
My granny. Yesterday.
SCARY MOVIES OR HAPPY ENDINGS?
Oh Happy endings. I hate scary movies.
ROLLING STONES OR THE BEATLES?
Beatles
DO YOU HAVE A SPECIAL TALENT?
If I have to think of the answer, I probably don't.
Oh I can put my hands into a prayer shape behind my back. So I guess you could say I have bendy arms and bendy shoulders. What a talent, haha.
And I can talk to the wall, or anybody who is listening, because the wall doesn't talk back to me. I'm quite flexible.
WHAT IS THE FARTHEST YOU HAVE BEEN FROM HOME?
Either Hawaii or Thailand.
IF YOUR HOUSE WAS ON FIRE WHAT WOULD YOU SAVE?
Family and I have two big boxes of just letters and pictures and stuff from since I was about ten. So I would save those boxes of memories.
HAVE YOU ANYTHING ELSE TO ADD?
Very happy to be here. Its a once in a lifetime opportunity. Looking froward to Christmas on the beach.
WHERE DID YOU MEET THE REST OF THE CREW ON THIS TRIP?
Papa Hef.
John is like an uncle, I don't know how long I know him, he is just always been there.
Denis, at a guess, I would say for ten years.
Joleen, I know of you since I was young, but only got to really meet you recently.
And Andy, just in the last few days really.