Far too much excitement over the past few weeks has restrained our blogging and the complaints department at Induglence central has been in overdrive. So, we are pleased to bring you the Indulgence bumper Christmas edition blog! All other blogs will be back to four paragraphs after this I promise!
At this stage of the game, we've been through the good, the bad, the rough, the smooth, and it is the stories with the more torn edges that have been standing out. The Caribbean has lived up to its name of being a place of extremes, dark, dodgy, friendly, super laid back with some of the most idillic settings on earth. Saint Lucia, known to be the crime capital of the West Indies has been our home for the past few weeks, with a small visit to Martiniuqe for sanity measure.
Did we mention that time here means nothing? "Mañana" doesn't express urgency. "Live Slow. Work Less." This is the motto of the islands.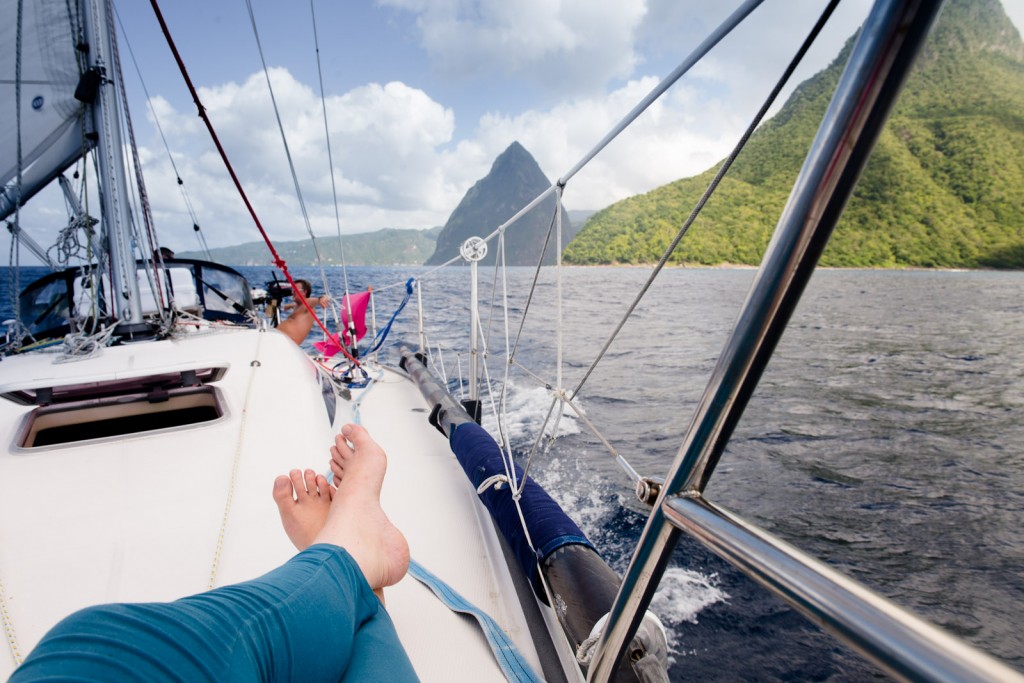 BYE BYE ARCIES
All ARC activities have finished up at this stage and we left the marina at Rodney Bay a few nights back. Delighted to have finished in 33rd place overall and 5th in our fleet. With a total of 228 boats, we were super pleased with our result. The marina was like an arrival and departures lounge and everyday was one of hellos and goodbyes. We caught up with old friends and made some new ones. We too picked up some extra crew members. Jill, who travelled from Thailand for the holidays, and Andy, whom we captured for a few days off Rafiki before he headed home to the UK for Christmas.
LA MOULIN ROUGE
As mentioned we escaped to Marintinque for a few days. The island was a complete contrast to Saint Lucia. In fact, it was almost like stepping onto a different planet. White v. Black. Euros v. two currencies (i.e. US dollar exchange rate rip off, or local currency which you can't convert fast enough!), La vie en France v. God only knows what's going to happen next and I better pay this guy off or I will never get home alive!.
Of course, we are sure that certain things only happen to Indulgence, so imagine the boys faces when Jill turned around one evening while at anchorage in Martinque and exclaimed "Boys, I don't want to alarm you, but there is a naked woman dancing over there!" All heads turned east, and indeed, in the light of a christmas cockpit was a lady starkers and doing her best to entertain. It was one of those funny, funny moments as the four lads fought over the two sets on binoculars onboard. Denis has photographic evidence available at a reasonable price for those who are interested.
It was though a beautiful, beautiful island and we spent two very pleasant days there, swimming, walking, shopping and enjoying croissants and coffee.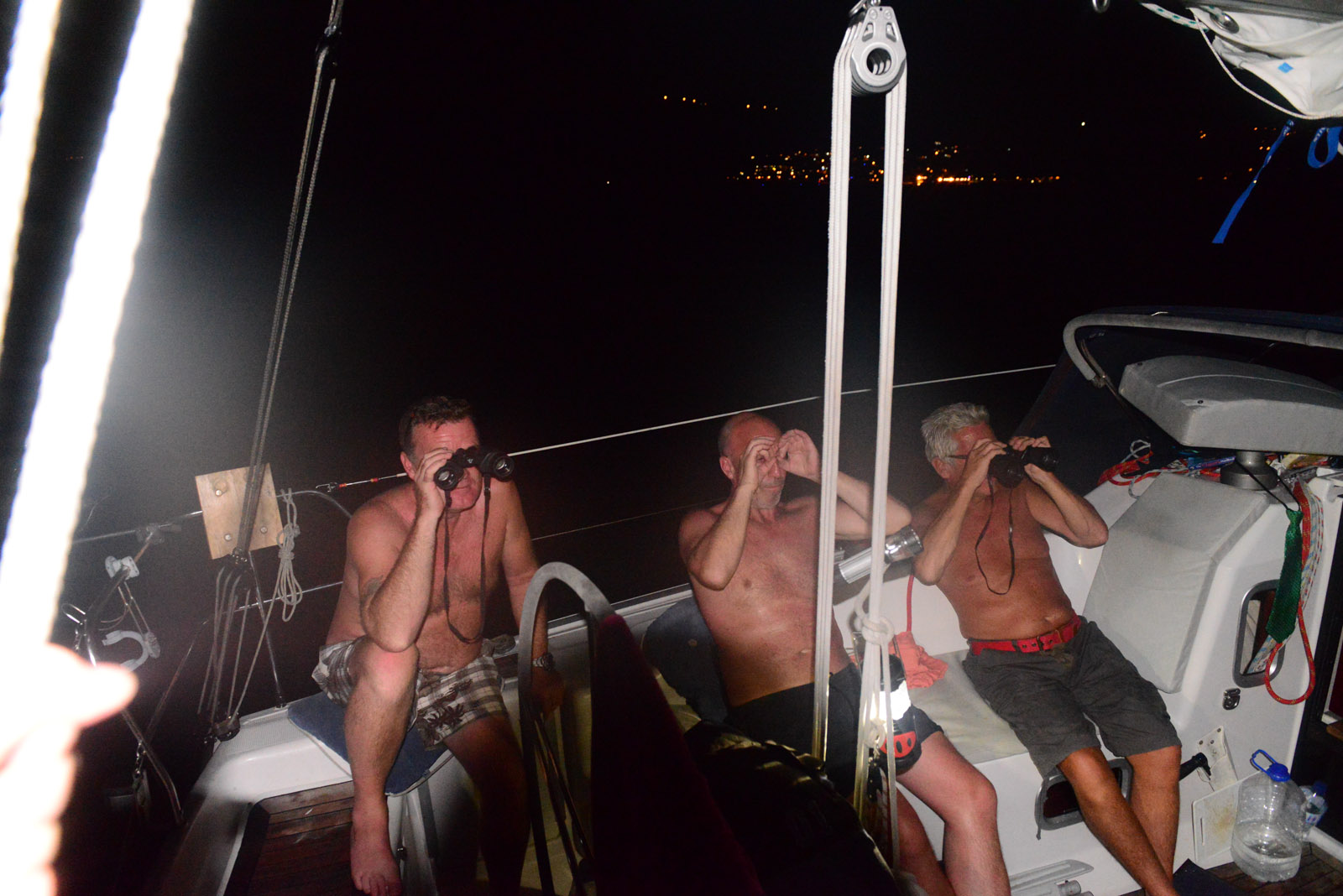 CAPTURED AT SEA
Another eventful moment, which cannot go without mention, must have been our Christmas eve visit to Marigot bay, back in Saint Lucian territory. As we were heading back to the boat via our dinghy, we spotted three people onboard. Along side was another dinghy, with two others and a barking dog. Indulgence was free from anchor and drifting out to sea. It was also clear that whomever was onboard could not start the engine. We did our best, waving and screaming while travelling at the fastest speed our little 5HP outboard could take us. They unfurled the headsail, and we screamed louder!. No good, and we watched Indulgence heading out the harbour. What was going on? We all had an air of despair about us, and the worry truly set it.
Eventually, and it was really did feel like an age, we caught up with the boat. How wrong we were, and how lucky we felt when our new "crew" explained that our anchor had broke loose, and as they were spear fishing, they noticed her heading for the reef. We all jumped onboard, started the engine and went to seek our lost anchor. It was a welcome rum or two when all was recovered, and we invited our three new St Lucian friends Teddy, Box and cousin Con to sail down the coast with us to Soufriers. Sure the excitement was unreal as it was their first time on a yacht, and Teddy and Box decided to join us. Teddy told us about his girlfriend who had passed away and how they both make a living from fishing. Later he decided to tell me a "secret" that the fishing was a front and his whole family were involved in the marijuana trade, as he pointed out stretches of land belonging to his cousin, grandfather, father, step father, brother and so on. They were nice guys and despite Box's tattoos across their chest of "RIP Game Over" and stories of cousin Con's prison sentences we enjoyed their company.
We arrived in Soufriers, a small town sitting under the Piton mountains. Of course the boys knew everyone in the town and they advised us to call another friend of theirs called Monster for "local assistance". While it may seem extreme, the town was too, and we picked up a mooring overlooking a strip of shanty homes with pigs bathing by the river bank and people lazing around in the midday sun. Being the good Catholics that we are are (!) we celebrated midnight mass at the local church, and then celebrated the rest of Christmas eve with Monster and some of his friends drinking rum in Sandy's bar until the early hours of the morn. As I knew from a previous visit to the Caribbean, they party hard for big celebrations with overnight parties called J'Ouvert which last from dusk until dawn. Soufriers J'ouvert made Trinidad's carnavalle look like a tea party and when we woke up the following day, we knew it was time to get the hell out of there and to celebrate Christmas day how we imagined it to be in the brochure.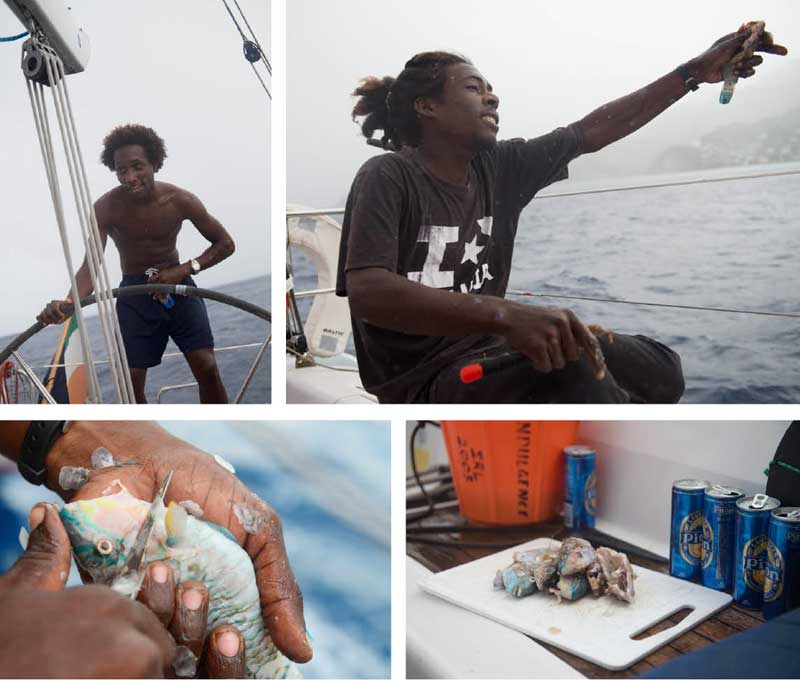 CHRISTMAS CELEBRATIONS
And so we headed around the bay to pick up a mooring off the Piton mountains. It rained and it rained hard. Just like Cork we thought, the Christmas swim will be no different this year!. In actual fact it was a bit of a miserable day weather wise, and we really couldn't step out of the cockpit without being completely dumped upon by the day long monsoon. We cooked shrimps, rack of lamb and had a delicious bannoffee pie to finish it all off.
Secret Santa, the topic of obsession over the past few weeks finally came around. I had been guessing like crazy who got who, so this was my personal highlight of the day. I was however very confused when my secret santa John came out of the bag twice. So was everyone else by the way, and by process of elimination we realised that poor Denis got no present! What??? No Christmas gift??? FAIL!!! For this one, we can only blame Jill who is still mortified for reading "David" instead of "Denis" on her card, and for easily mixing this up with John, who's real name is David John. Ahhhhhh…….! All was not lost though and Santy turned up a day later with two beautiful black t-shirts in guess what, Denis' size!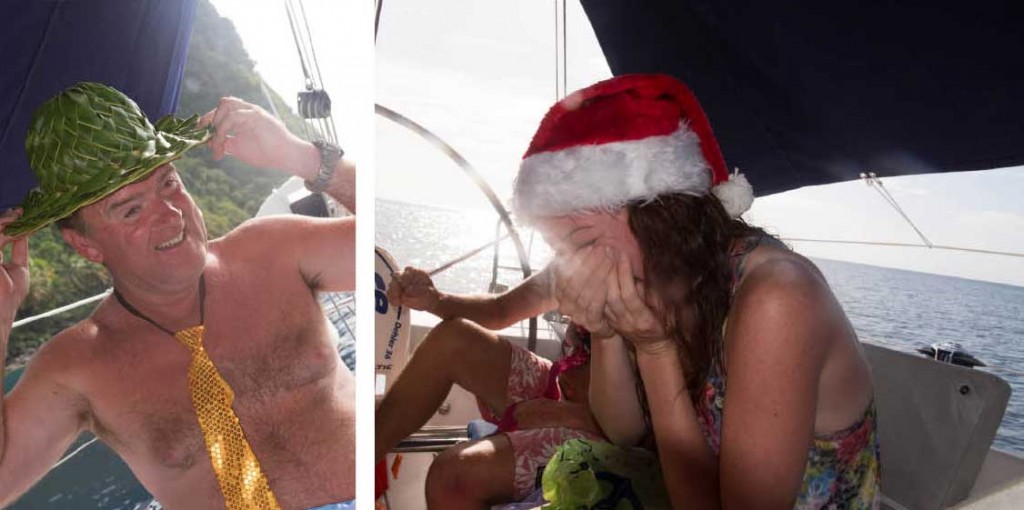 THE MILK RUN
The rest of the milk arrived, and we picked up two new passengers Robert and Kate, who have joined us for two and a half weeks. It's a Heffernan family gaggle and Kate has already found the best sun spots on the board in her "Operation Mahogonation"
We are now heading south towards Bequia island after a lovely stop in Cumberland Bay, St Vincent yesterday evening.
More updates to continue. Fingers now sore from typing and so are my sides from laughing at the recollection of these silly stories.