WHAT IS YOUR FULL NAME?
Kate Elizabeth Forde
WHERE YOU NAMED AFTER ANYONE?
Not that I am aware of. I was born around around Christmas so they wanted to call me Holly originally, but Im glad they went with Kate, it's not a bad name.
WHERE WERE YOU BORN?
In Cork, actually not sure what hospital. Gonna say the Bons, but I was in and out of the hospital when I was younger. I had loads of little silly things wrong with me like pneumonia, adenoids and tonsils removed. You know when you have memories when you were younger, a lot of them was when I was in hopsital, but they were never too bad, just good memories and my mom was there singing to me.
WHEN WAS THE LAST TIME YOU CRIED?
Gosh, Im a bit of a baby and super sensitive. Probably welled up when I was saying goodbye to my nephew on Christmas night and he was going to bed at 7 o clock and I knew I wouldn't see him for three weeks. So I welled up a bit then. That's why I will always have to have a job in Cork and I could never move to Australia, I'd be too far from home.
DO YOU LIKE YOUR HANDWRITING?
Yeah, it can be a bit rushed but that is like a lot of things that I do.
DO YOU HAVE KIDS?
No
DO YOU USE SARCASM ALOT?
Yes
DO YOU STILL HAVE YOUR TONSILS?
No, nor do I have my adenoids.
WOULD YOU BUNGEE JUMP?
No, I'd have the fear that the chord would break. You see too many of them youtube videos of them snapping or hitting the water.
DO YOU UNTIE YOUR SHOES WHEN YOU TAKE THEM OFF?
No, again everything I do, if there is a shorter, faster, more efficient way of doing it, I will find it.
WOULD YOU PUT THE MILK INTO THE TEA FIRST, OR LAST?
Ammm, for tea, last. For coffee, before hand. But it wouldn't turn my stomach if it was either. The Fordes are creatures of habit, we have routines drill into us and tea making is one of them. Having tea with your breakfast, tea after supper. We make tea so much. We have a teapot at home, a red one, and we all make the tea just like my dad does. hand on one hip and pouring the tea out. Its the biggest thing we have all learned from him. Timekeeping. I am never late rom anything. But we don't sing the teapot song when we make the tea. But as you know I do like to sing.
WHAT IS THE FIRST THING YOU NOTICE ABOUT PEOPLE?
Their teeth. After years of braces. I think its a braces people thing, because you went through the torture of them. After braces it changes your whole face, so you appreciate other peoples smiles, especially people who are lucky enough to have naturally great teeth.
RED OR PINK?
Pink. Its my signature colour.
WHAT IS YOUR LEAST FAVOURITE THING ABOUT YOURSELF?
I am so impatient. Well it was my news years resolution to be more patient. But I find it very hard to get around people who just people keeping waiting or procrastinate, but then that's down to my routine and habits from my dad. I think it's because Im just high strung. That's my news years resolution to appreciate people who are not as high strung as I am.
WHO DO YOU MISS THE MOST?
Well Im only away for three weeks but it must be my niece and nephews, Emma, Jack, Harry and Cian. Kids changes do much in a short time, and I miss them loads already.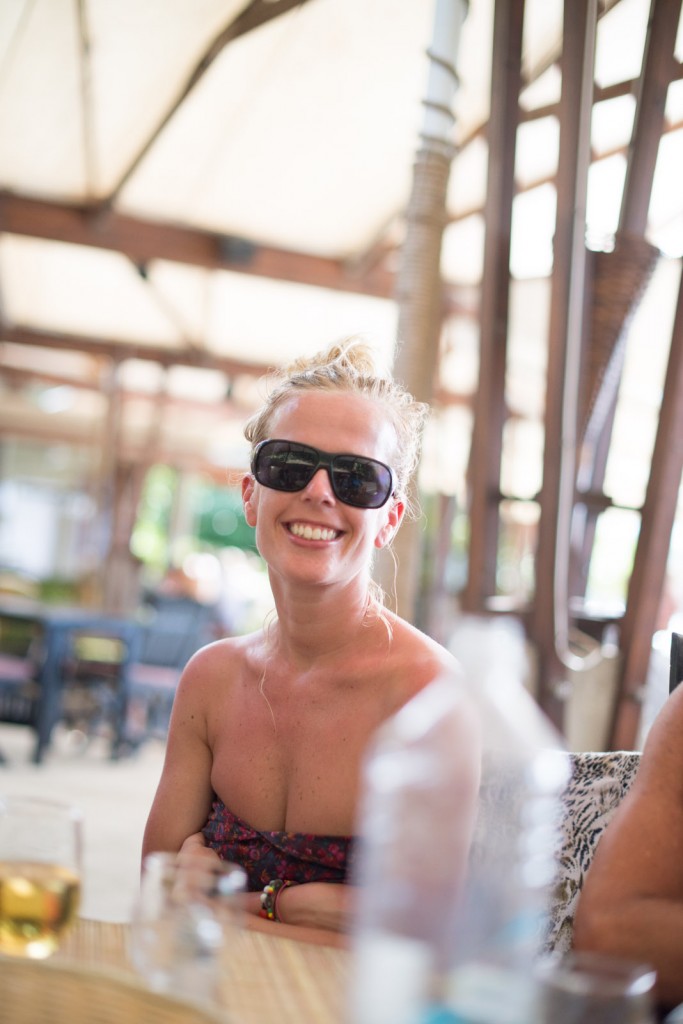 WHO WAS THE LAST PERSON YOU TALKED TO ON THE PHONE?
My mum. She is my best bud.
SCARY MOVIES OR HAPPY ENDINGS?
Happy endings
ROLLING STONES OR THE BEATLES?
The Beatles. Get that from my dad, he was playing us Beatles since we were born. As you can tell, we are a close family.
DO YOU HAVE A SPECIAL TALENT?
Haha, I don't really. I wish I could sing. I wish I could play an instrument. I don't think there is any singing coach in the world who could help me. Not even Ciaran, as much as loves my "wrap me up in my oil skins and blankets"
WHAT IS THE FARTHEST YOU HAVE BEEN FROM HOME?
This is it, I'd imagine. I've just been to the States otherwise on J1s. They were great, great fun. Visiting Rob in California was the furthest away I think.
IF YOUR HOUSE WAS ON FIRE WHAT WOULD YOU SAVE?
Well it depends which house. If its was mine and Robs house in Mount Oval, it would be Rob. Now I know he would say his TV before me. but if it was my parents house it would be my family, but that's a given I suppose.
HOW DO YOU KNOW THE REST OF THE CREW
Well I suppose it all boils down to me and Rob. I am going out with Rob for ten years now. I probably met Jill first, and then Aidan. But it wasn't the Aidan we know now, it was a really, really, really, really SCARY AIDAN. My first time meeting him I was petrified. But Rob assured me, that only way you will know my dad is if you go out ailing. So after two years, I finally went sailing, and I was like, who is this Aidan????
As soon as I started going on on Indulgence, Denis and John were there. We've been on so many trips together now in Spain and France. I know them really well.
Joleen, I know you through the last few years in Crosshaven. This is the first time we are properly hanging out, and perfecting those Caribb accents together. May I add, it's a pleasure.