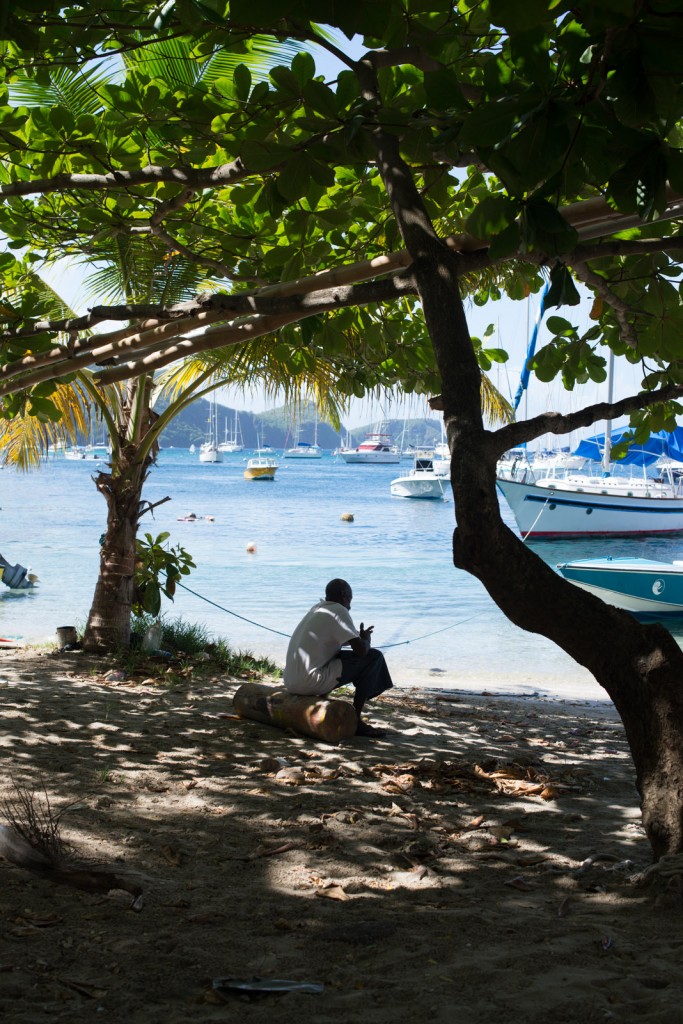 "Aye-ree, Welcome to Bequia. It's so nice you do it twice." This was our first greeting to the Caribbean island from a local fruit seller.  "Dis is paradise man, and I am de president." Funny, because I vaguely remembered a picture of me and that same guy from a few years back when I first visited this amazing place. Clearly he had progressed from the local Mayor to the President in those eight short years.
"I got papaya, mangoes, and dis fine good sugar sap" and he held out a strange  white fruit with dark seeds. It was pretty good, with taste was like a sweet, sugary ice-cream. The rest of the crew, when I produced two of them after dinner, didn't quite agree, but I guess thats the power of impulse buying.
Bequia is beautiful. It's relaxed, green, has lots of sandy white beaches, and a main street that leaves as much room for pedestrians as cars, or goats, or chickens, or whatever you might see along the way.
By day two, I decided I needed a haircut badly. If I leave my hair grow long enough, it has got cocker spaniel qualities. That is flat on top with long curly bits down the end. Not flattering and I knew I needed to do something fast. I made an appointment for 2pm, and by 3.30pm I was sitting in the hairdressers seat. Bequia, like every other Caribbean island, has it's own time pace. That hour and a half though were one of the most entertaining as I got an special insight in braiding, hair extensions, back combing, super product styling and so much more. I felt jealous that I wasn't fitting in, and seriously considered turning into a redhead rasta, just for the hell of it.
That was Bequia. We left, contended, filled with Pina Coladas and a few days at a busy but wonderful anchorage and headed to explore the rest of the Grenadines, including Tobago Cays marine heritage park and Union Island.
******
For the fun of it, I filmed The President with his co sellers Olly and Hadou at the market introducing our upcoming film "Marley" at Crosshaven Film Club. They totally got into the swing of it.